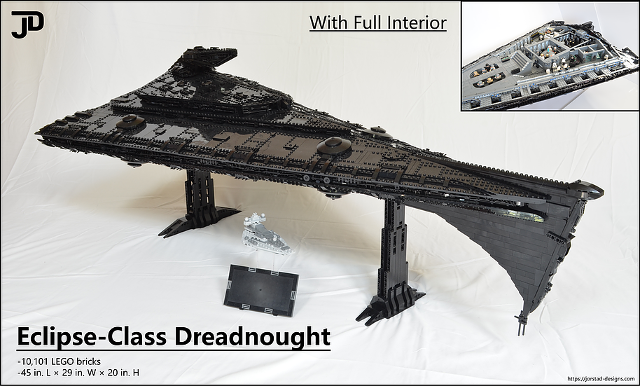 Presenting the beast in all her glory, the Eclipse herself! A project commissioned by Deän from Oregon, this build took me roughly two and a half months to design from scratch in LDD and an additional two weeks to build in between work. Weighing in at 10,101 LEGO bricks, here's some of the model data:
Model Dimensions:

Length: 45 in.

Width

: 29 in.

Height: 20 in.

Weight: roughly 25 lbs.

Part Count: 10,101
Ship Stats:
Manufacturer: Kuat Drive Yards

Length: 17,500 meters

Maximum Speed: 940 G / Class 2 Hyperdrive

Weapons: 1 forward axial superlaser, 550 heavy laser cannons, 500 turbolaser batteries, 75 ion cannons, 100 tractor beam emplacements, 10 gravity well projectors

Capacity: Crew of 708,470; 150,000 ground troops; 1 Royal Guard Legion; 1 CompForce Assault Battalion; Imperial Sovereign Protectors; 600 Tie/IN Interceptors, 96 TIE/sa Bombers, 100 AT-STs; 5 prefabricated garrison bases 
Want instructions for this model? Visit my website at https://www.jorstad-designs.com!