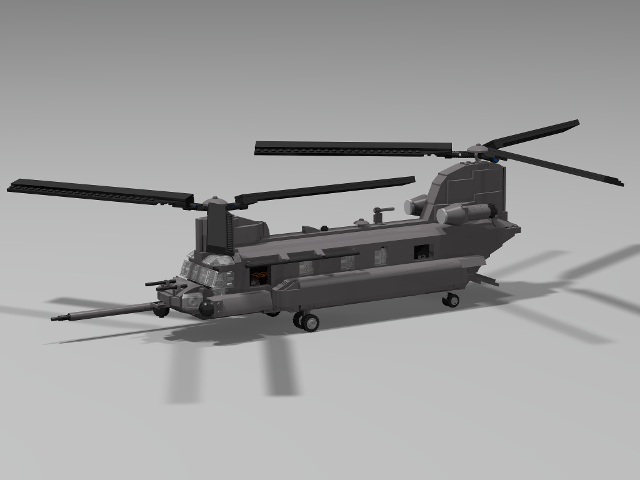 About the MH-47G Chinook :
The Boeing MH-47 Chinook is an American twin-engine, tandem-rotor, heavy-lift helicopter. They are operated by the 160th Special Operations Aviation Regiment (SOAR), or 'Night Stalkers'. These helicopters are flown in the heavy assault role, which includes insertion and extraction of the Special Operations Forces. This 'G' variant, also known as "Golf", is the most current and sophisticated MH-47 currently in service. They include new build airframes with electrical and hydraulic lines. 
The MH-47G features numerous upgrades to set it apart from the other variants. The cockpit is full-glass and digital to make it compatible with night vision goggles. Sensors on the helicopter include a forward-looking infrared and electro-optical camera, multi-mode radar with terrain-following, avoidance, and weather detection modes. In addition, this helicopter is equipped with ample amounts of communication gear, defensive systems, extraction and insertion gear, and a large fuel tank for longer flights. This crucial equipment is to provide the maximum support for soldiers and ensure the success of the mission.
Specifications:
Crew: Five(5) (pilot, co-pilot, three crew chiefs/gunners)
Engine: Two(2) x Textron Lycoming T55-4-714 Turboshaft
Maximum speed: 259 mph
Range: 1,382 km
Armament: Four(4) gun stations with two(2) x m134 7.62mm mini-guns (front), two(2) x M240D 7.62mm machine guns (rear)
The MH-47G Chinook -  includes the following features:
Measures over 29 inches (75cm) long
Opening cargo ramp, opening roof
Spining rotors
In-flight refueling probe
forward-looking infrared (FLIR)