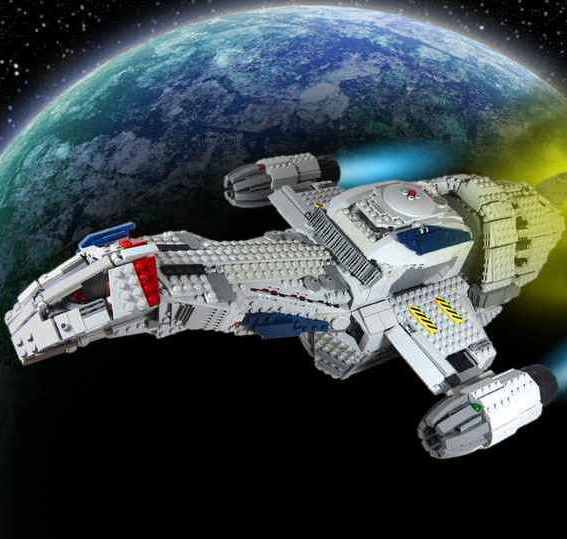 Have fun with this playset as you travel with the motley crew of renegades aboard the Firefly-class mid-bulk transport vessel Serenity as they out-think Alliance pursuers and deadly Reavers with nothing but wits & bailing wire.  Yes they smuggle, yes they harbor a fugitive schizophrenic telepath, yes they don't all get along so well.  But the one thing they all have in common, and the one thing keeping them all together, is Serenity.  Now you too, can relive all the adventures yourself in LEGO style.
From the creative mind of Designer Thomas Lockwood comes a masterpiece of design, function, and fun.  A true Browncoat's dream come true, the Firefly Serenity Playset is the set that never was meant to be.  This set has everything you want in a toy: Immediate recognizability, features to play with, spectacular part usage, and model accuracy & proportion.  It all comes together to make this building toy a playable set with an eye towards hours of fun (in building and playing).
This playset has an interesting history.  Originally the design was on the LEGO CUUSOO site with the possibility of becoming an actual LEGO branded product with a required 10,000 votes.  After just a couple of months, in what must have been some sort of speed record, all votes were obtained and success seemed imminent.  Much to the chagrin of supporters everywhere, the playset did not pass LEGO's review, despite recognition, praise, and visibility from a bunch of websites, Wired.com, retweets from 3 of the show's actors & Grant Imahara.  That was the end…or so everyone thought.
Steps have been taken to ensure that this model finally will be available for all.  While not an official LEGO set, this is being provided as a service to find & source all the bricks required to put this together, along with the instructions and a few other surprises.  Spend your time building the model, not sourcing and waiting for all the parts to come.  Instead, get a box of parts in the mail, ready to build.  Heck, have the minifigs build it!
Here are some features of this Firefly Serenity Playset:
Opening loading ramp & bottom hatch
Docking provisions for 2 Shuttles (shuttles not included)
Minifig-capable cockpit
Light-up Firefly drive (battery included)
Playable dining area & cargo hold
Crazy Ivan capable rotating engines
24″ long x 16″ wide x 7″ tall
2208 new unused pieces.  That's over 5 lbs!
Minifigures are not included with this MOC.
This product is not licensed, defined, sponsored, endorsed or manufactured by Fox, Universal, Firefly or Serenity.