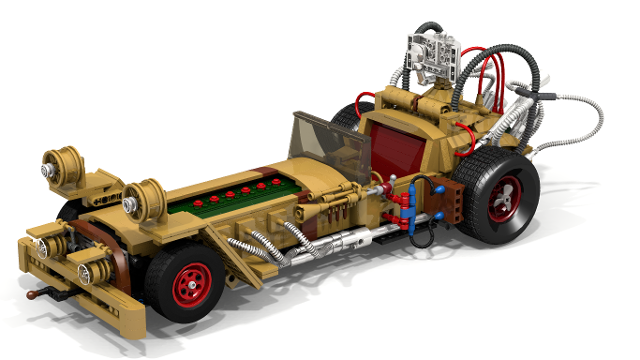 I have created a copy of Il Tempo Gigante 
From the movie The Pinchcliffe Grand Prix
from 1975
Il Tempo Gigante is the name of a race car as is known from the Norwegian The Pinchcliffe Grand Prix from 1975. The car was designed by the author and illustrator Kjell Aukrust, but being in the film constructed of The bicycle and inventor Gearloose and driven by him in the race he Pinchcliffe Grand Prix. The car has lots of options and different home constructed features, such as two speedometers, where one ends of 250 km / h, and the other takes over and continues to 400.
this model in lego is almost half scale of the one in the movie
I used 1260 bricks to make this model and over 100 hours. 
18" (49,5cm) long
​8" (21cm) wide
6" (16cm) high
https://ideas.lego.com/projects/123259