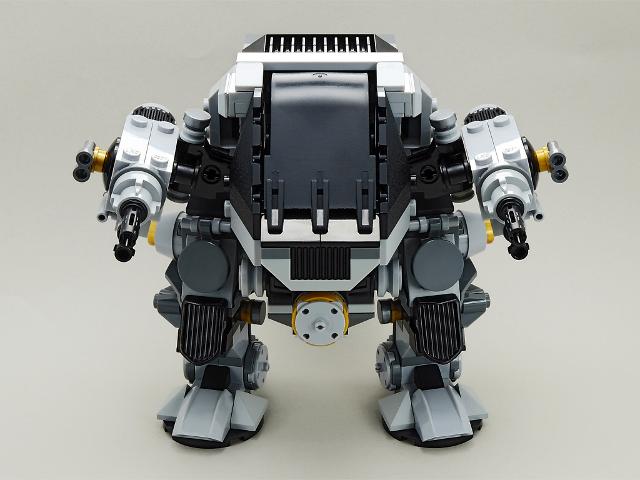 The Urban Tactical Assault Droid, Series 359, or UTAD-359 alias 'Cugar' is an autonomous military machine for close-quarter battle by Lasnut Nest Defense Service.
Structurally sound in sleek and stylistic look. In reminiscence of the horrifying ED-209, no one can be sure when it will malfunction and gun down an innocent for no reason.
***
Message from the designer:
I am glad to see the stars and the comments you have given, because Cougar is one of my favorites.
When I have to choose between appearance and playability, appearance always comes first, because, I usually just have fun displaying my creations and rarely play with them. I cannot force you just to display this, but I think it would be good to inform you that its playabilty is far limited: it has no articulations that officially work.
As somebody said, it is more strong than any MOC mechs around us. I am quite sure and proud of it. We know that to make something sturdier with LEGO, we shall have to sacrifice its looks severely more than often. All I would like to say is that I made every part of the body as strong as I could, balancing between durability and appearance, just like I do to all of my other creations.
By the way, the "hatch" is not a hatch. Please note that Cougar is an unmaned robot and I hope you don't bother to open the canopy.
Thank you all and have fun!
***