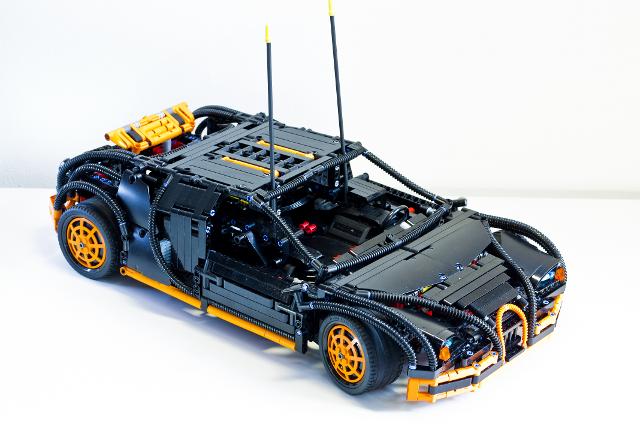 This is the first fully remote controlled Lego Bugatti Veyron Supersport 16.4 in Orange/Black.
It's build to use outdoor. Its way to fast for using indoor!!! Beware!
Featueres:
4 Buggy Motors for propulsion(mounted in the back) ,no "4WD"
2 RC Units for Power and Steering.
3 Lego LED , 2 in the back , 1 in the front.
1 M-Motor for controlling the rear-spoiler
1 Lego speed computer for speed measurement 
The Bodywork can be removed in seconds.
Topspeed: around 16-18 Km/h !!!
Weight: 2330 gramm(with battery), 1470 gramm with no bodywork
Pieces: ca. 2200-2600
Size: 56 studs long x 27 studs wide x 15 studs Tall
Location of the MOC: Potsdam, Germany
There is no building instruction(and will never be).This i a unique model. It's the one and only Lego Bugatti Veyron Supersport so far.
If there are any questions: please contact me: n1ce89@gmx.de
There is no price for this MOC yet. So feel free to contact me!
VIDEO: https://www.youtube.com/watch?v=ezOCCAVl4E0