By Admin | Aug 11, 2014 at 22:30 EDT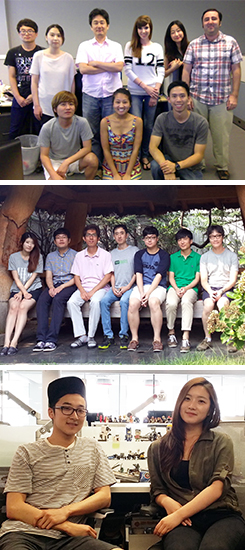 Top: Irvine office, Middle: Seoul office,
Bottom: New York office.
It has been a little over one year since the Bricklink story embarked on a new chapter with us being fortunate enough to become the new care-takers of Bricklink. We are proud to share with you that during this time, the community of LEGO-fans who use Bricklink keeps growing steadily. Our user base counted more than 315 thousand members by June 2014, almost 30% more than a year ago. We also observe an ever-growing number of items for sale: As of June 2014, Bricklink hosted 8,394 stores, displaying more than 276 million items, up 19% and 47% compared to a year ago. In sum, we're very happy and grateful to be part of the largest & fastest-growing online LEGO platform in the world, which wouldn't be possible without your continued love and support of Bricklink.
In the past year, great efforts were put into bug fixes and security upgrades for Bricklink 1.0, preparing the launch of BrickLink MOCShop and laying the foundations for Bricklink 2.0 & beyond. To realize these projects, we recruited dozens of young, highly talented people who are passionate about LEGO. We are keenly aware that as an organization, we have much to learn still, but we believe we have the right people in place to speed up our learning process and bring innovation that will improve your user experience.
Financially, Bricklink is displaying promising revenue growth at a double-digit yearly pace, but as we find ourselves in the investment/growth phase of our story, we are slightly losing money. Nevertheless, we are very excited about the future and we are happy to help our members, stores and designers we are inviting as of this year, in any way we can.
Thanks again for your support and we hope you will enthusiastically adopt the new features we will roll out in 2014 - 2015!

Alice and Jay at a convention.